Star Hollow Farm
Adams Morgan FARM MARKET & CSA
notes for the week of
Saturday, June 2, 2018
on IG@starhollowfarm.pa
Grand Opening of the 2018 Adams Morgan Farmers Market. Hoo-ee!

Hello all!
Boy, it feels like a long time, all of 3 weeks! While it's been good to be off and get some farmin' done, it's also good to be back. Missed you all!
Goin's on here...
Last week Sam and I spent a day rebuilding the end of our 25-year-old greenhouse, upgrading it considerably. Daughter Anna was up for a little over a day with some friends from DC, and we actually celebrated with a barbecue and campfire last night (after a day of farm work)! Good fun.

[photo] New greenhouse end wall.
The weather's been pretty sucky so far this spring/summer. A week ago we had 3.5 inches of rain over a seven day period. The biggest challenge is finding 3 days straight without rain so we can get the tractor in the field to plow, fertilize and get it seeded. Outdoors we've gotten in a new crop of asparagus, tomatoes, tomatillos, eggplant, sweet potatoes and purple potatoes and some herbs. Thankfully we have high tunnels where we can work rain or shine. Tomatoes and greens are in and comin' along. Berry plants look good so far. Oh... and the pullets (OK, young hens) are starting to lay like crazy. We got 83 eggs today from 100 birds. The eggs are still small, but withing 3 weeks to a month should be up to normal size.
This weeks produce will include...
Kits: seconds roasted roots are the last, mainly because of no more onions until the new crop starts.
Greens: arugula, bunched rainbow chard, head lettuce (2 kinds), kale (2 kinds), pea shoots, spinach & our stir-fry greens.
Veggies: asparagus, dry beans (2 kinds), beets (2 kinds, incl. fresh!), juice carrots, Diva seedless cucumbers, garlic (incl. fresh!), shiitake mushrooms, parsnips, cayenne peppers, French breakfast radishes, rhubarb, scallions, hothouse tomatoes and turnips.
Herbs: Herb sampler (2 sizes), basil, chives (garlic & regular), cilantro, dill, lemon balm, lovage, Greek oregano, Italian parsley, peppermint, French sorrel (small pack & soup pack), spearmint and German thyme.
Poultry & Cheese: Stewing hens, chicken & duck eggs, the usual cheeses (plus goat cheese logs & demi-sec rounds).
Miscellany: apple sauce, honey, maple syrup, blueberry & strawberry jams.
Campfire wood!
Hope you can find something out of all that to satisfy your craving for fresh produce!



[photo] The ryegrass below the barn and high tunnels is growing several inches a day. It adds lots of organic matter to the soil. Mixed in with it is Hairy Vetch, a legume that adds nitrogen to the soil.

Hope you're having a good week! See you Saturday.
Thanks for your support,
Randy, Chris & Sam
at Star Hollow Farm

I had a birthday last week. Worked until 3:30 in the PM, then decided to have some fun!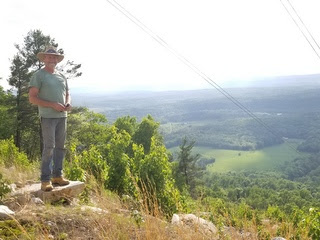 [photo] At the top of the nearby mountain on a hike with Sam.

[photo] Campfire with the fam.

[photo] Mama and me.